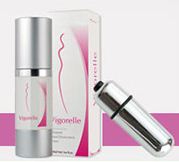 One of the best things about the products on PEGym is that someone in-house has tested them. We turn away so many manufacturers, hoping to partner with us, because we want to make sure a product does what it says it does. Over the last years, this means that I, personally (being female), haven't been able to test products. The guys get all the fun! 🙂
Well, I was happy that our new section — Just for Her — has products I could actually give a try!
When building this new product section, one of the first products I tried was Vigorelle.
Vigorelle bills itself as an "all-natural lubricant and sex enhancer." Now, typically, I don't have any complaints in the bedroom.  However, who doesn't want to change things up a little bit, every now and again? And, a little extra lubricant is never a bad thing, so I was excited to give Vigorelle a try!
Without going into too many sordid details, the first thing I noticed about Vigorelle is it felt cold. I honestly thought it was literally cold – temperature-wise. However, even after a a minute, it still felt really cold. Now, that might not sound like the best thing…  but it was! When they say it makes a woman more sensitive… it definitely does!
The best part? It didn't affect "Mr. Kimberly". He has some pretty sensitive skin. We've tried other sensation-type lubes, only to have them really bother him – sometimes to the point that it completely ruins the mood. Vigorelle, however, was a non-issue! That made me extra-happy!!
The lube itself was a nice quality and relatively long-lasting. Plus, it was very easy to clean up. Another important factor.
All-in-all, I give Vigorelle two thumbs up!
Don't just take my word for it — definitely give it a try! And, don't forget, with a 60-day, no questions ask guarantee, you and your girl can try Vigorelle risk free!!