The flaccid bend is the first squeezing exercise that many men do (after a man has been exercising his penis for 6 weeks or more). It's one of the backbone intermediate-level exercises for a man looking to build a thicker penis.
Erection level: 50 to 60 percent
Recommended Reps: 4
Flaccid Bend Step-by-Step
This exercise uses two hands.
1. Hand 1: Grip the penis below the glans, as if you were going to stretch.
2. Hand 2: Place two to four fingers underneath the penis.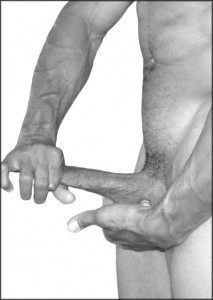 3. Bend the penis over the fingers.
4. Hold the bend for twenty to thirty seconds.
Tip! Do an entire flaccid bend workout by repeating steps one through four in each direction. Do this by placing the fingers above the shaft to bend up; to the right of the shaft to bend right; and to the left of the shaft to bend left.
Tip! If you have even more time, repeat the exercise again, but each time place a different number of fingers underneath the penis.