Penis
extenders are just one popular penis enlargement device. There are a great number of choices when it comes to buying a penis extender, for use in your penis enlargement exercise program. However, like any other piece of workout equipment, it's important to be sure you you make a careful buying decision.
Scroll down to learn more about, What are penis extenders? Do they really work? What are the best extenders on the market? What should I consider before buying a penis extender?
Written by Kimberly Wylie
THE ESSENTIALS
Stretch – Extenders are designed to stretch the penis.
The Same, but Different – Although extenders have different designs, they all feature fastening points and a method of extending the device to provide the stretch.
Scientifically Proven – Penis extenders have been scientifically proven to lengthen the penis.
Research Before You Buy – Consider how the extender attaches, how it adjusts, are there instructions, and is there a money-back guarantee.
DO PENIS EXTENDERS WORK?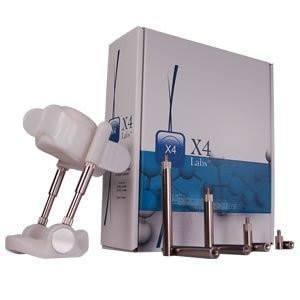 The extenders have been scientifically proven to not only work, but actually work better than penis enlargement surgery. A study by Paolo Gontero and colleagues at San Giovanni Battista Hospital at the University of Turin, Italy, published in the British Journal of Urology, found:
Men gained nearly 1 inch in flaccid length, after using it for six months.
Another study, performed by Marco Ordera and Paolo Gontero of the University of Turin in Italy, found similarly supporting results. This time:
109 men used non-surgical penis enlargement methods, including the use of penis extenders.
The average flaccid length gain for the non-surgical methods was 0.7 inches.
While another similar study found men gained, on average, 0.9 inches flaccid and 0.67 inches in erect length.
So, if you want to get a bigger dick, penis extenders should definitely be a device you consider. But, how do they work? Keep reading to learn more.
HOW DO PENIS EXTENDERS WORK?
This is a device meant to stretch the penis. Most designs are very similar and include two basic components:
Two fastening points — one at the base of the penis and one just before the glans
Bars or rods — these extend the length of the extender
The bars or rods are lengthened by the wearer, to stretch the penis overtime. Where design differences come into play is the mechanism by which the rods are lengthened and the comfort features (such as padding) of the device itself.
There is one penis extender on the market that differs greatly from the traditional design — the Phallosan extender. It uses a revolutionary vacuum system to aid in extension.
HOW DO I USE A PENIS EXTENDER?
First, it's important to reiterate that you need to read and follow your extender instructions provided by the manufacturer. Although we discuss general instructions on extender use below, every extender is slightly different. With this in mind, here are our basic instructions on how to use a penis extender.
Step 1: How to Use a Penis Extender
Prepare – Before you apply the penis extender, most men prefer preparing the penis by wrapping the frenulum with a piece of gauze or cloth. This protects the sensitive frenulum from rubbing on the extender cradle.
Step 2: How to Use a Penis Extender
Attach One Side of the Strap – Attach one side of the extender strap to the extender cradle, so the extender will stay in place, when you apply it to the penis. Typically, you leave the strap unattached on the side of the extender corresponding with your dominant hand. I.e.: If you're right-handed, leave the right side of the strap unattached and vice versa.
Step 3: How to Use a Penis Extender
Put the Penis in the Extender – Grab the penis just below the glans and, with your non-dominant hand, pull the glans toward the cradle of the extender.  Once in place, slide the strap up and over the penis, behind the glans, where it feels comfortable. Some men prefer a little extra distance between the strap and the glans, for added comfort and to better protect the glans and frenulum.
Step 4: How to Use a Penis Extender
Secure the Straps – Put the strap through the opening for it on the side of the cradle and secure it tightly, while still keeping the penis held in place, with the other hand. Then secure the other side of the strap to the extender with the dominant hand, making sure to keep enough tension on the penis, so it stays in place and the glans does not slip out of the grip from the strap.
Step 5: How to Use a Penis Extender
Retighten the Straps – Retighten the straps 2 to 3 more times on each side, one side at a time. This ensures a tight fit, so the glans cannot slip out from the strap. Do NOT pull the strap so tight it pulls shaft skin through the opening for the strap.
Step 6: How to Use a Penis Extender
Maintain a Comfortable Stretch – Once you're well-strapped in, adjust the tension rods until you feel a comfortable stretch. Do not over-stretch yourself. Like any exercise, overdoing it is not only counterproductive, but also can lead to injury.
Step 7: How to Use a Penis Extender
Apply Heat – Applying heat, such as via a warm rice sock, is an optional, but recommended step. The heat will help the penis achieve a more plastic/malleable state more quickly. It also encourages nutrient-rich blood flow to the penis. Although a variety of heat sources can be used, never use a wet heat source, to prevent rusting of the metal parts of the extender.
Step 8: How to Use a Penis Extender
Wait -You can do almost anything you'd normally do while sitting or lying down — such as watching TV, using the computer, reading a book, just about anything that doesn't require physical movement, while using your extender. You don't want to move around too much and loosen the grip of the extender.
WHAT IS HEAD SWELL?
Head swell, as the name implies, is the swelling of the glans with blood. It occurs when wearing a penis extender. With head swell, you maximize the amount of resistance for the extender and minimize the chance the strap will slip off the glans. This allows you to have the appropriate level of tension in your extender. Review our article: The Head Swell: Maximize Your Penis Extender Gains, for more details on how to get and maintain head swell.
PENIS EXTENDER BUYING GUIDE
| | | | |
| --- | --- | --- | --- |
| Extender Name | Price | Features | Guarantee |
| PEXtender by PEGym | $199.99 | Easy to use, vacuum system without the hassle of a pump, discreet, can be worn under regular clothes, super-affordable | 14-day no questions asked happiness guarantee & 1-year warranty against defects on non-wear items |
| SizeGenetics Complete System | $298.95 | 58-way comfort system, medical Type 1 device, increase your penis size by up to 30%, includes LOTS of extras, free shipping, and more! | 6-month guarantee |
| Phallosan Forte | $339.00 | Cutting edge vacuum protector system, comfortable to wear day or night, allergen-free materials | 14-Day return of unopened product |
| Quick Extender Pro | Starts at $119.00 – Save 25% using code PEGYM | Packages to fit every need and budget, double support system for extra comfort, designed to fit every man, including micropenises | Exclusive 1-year guarantee for PEGym members! |
| Penimaster | $189.00 | Adaptive fastening system, professional quality, designed for discretion | Unknown |
| Euro Extender | $199.95 | Traditional rod extender design, comes complete with enlargement supplements and exercises to maximize gains | 180-day satisfaction guarantee |
| Male Edge Penis Extender | $179.00 | Comfortable, affordable, 3D instructional video, online training program | Double your money back guarantee |
| JES Extender | $239.00 | Clinically proven results, improved comfort strap, mahogany storage case | Double your money back guarantee |
| Penis Pal | $99.00 | Affordable, limited number of expansion rods | 60-day money back guarantee |
| X-4 Labs | $129.00 | Comfort loop strap, innovative 4-in-1 Quad Support Piece, hybrid traction system | 6-month growth guarantee |
SIX PENIS EXTENDER BUYING TIPS
1. Does the Penis Extender Come With Extra Parts for Penis Enlargement
When shopping for a penis extender, look for one with different rod lengths, so you can "build" it to suit your flaccid length. As you grow, from your penis enlargement exercises, you can then add extra length. We know why people buy extenders, but can you imagine buying one that is so long, you find you are too short to fit properly?
Also, look for a penile extender where you can order replacement parts, if needed. Look closely at what comes with it. Think about if you will need either extra nooses, straps, pads, comfort cushions, etc, or replacement parts. Some parts may be expendables; you buy and replace them yourself.
2. Research How You Fasten into the Extender
This is critical. It's all about comfort! How you fasten with or without foreskin is important when deciding which extender will work best for you and your penis enlargement exercise program. There is the silicon tube noose to loop over the shaft, just behind the head or Glans. There are some extenders that use a strap, about an inch wide, which is also fastened just behind the Glans.
Some extenders allow the use of either or both noose and strap. Some have a chamber with ancillary latex, where a vacuum draws the Glans into the chamber.There may be add-on parts that change your extender, so it uses a vacuum sleeve attaching mount. With these, you fasten in flaccid.
Some extenders provide padding or foam wraps, to allow you to wrap a protective layer around the shaft. There are plenty of forum posts demonstrating other alternatives to facilitate comfort, but comfort is key.
3. Does Your Penis Extender Come With Instructions, to help with Penis Enlargement Exercise?
This is sometimes a difficult thing to shop for. Look to see if there is a manufacturer's users forum or an 800 number for support. Does the penile extender come with a CD of instructions, PDF files, or videos for the user, to help make sure you're using it properly and safely? These will definitely help you with your penis enlargement exercises.
Visit your favorite PE forum (PEGym.com) and see if others have posted instructions on use for the penis extender you're interested in. Visit YouTube and other searches for penis extenders and the manufacturers name, to see what's been posted on video sites regarding how to use the extender. You may discover things to be on the lookout for.
The PEXtender by PEGym is supported by our partner – meCoach MaleEnhancementCoach.com! Big Al and the male enhancement trainers will be happy to assist you with any questions you may have about using your PEXtender. In fact, we've even created a dedicated support thread in our forums here — REP Support for PEXtender.
4. How Does the Penis Extender Adjust for Proper Fit?
Regretfully, this key piece of information is difficult to determine, from most penis extender web sites I've seen. However, this is an important aspect to consider, for your penis extender and which is going to be best for your penis enlargement exercise routine.
Generally speaking, one fastens into an extender and adjusts it, to place tension or pull on the penis. It is the stretching process that facilitate penis enlargement. But how much pull do you use?
Some penis extenders have "calibrated" springs and lines inscribed, to indicate the force being used to apply the stretch. One has lines for 600 gm, 1200 gm, 1800 gm. Others have different gram values.
Note:
600 gm = 1lb 5.16 oz
1200 gm = 2lb 10.32 oz
Some penis extenders only give a sample schedule to "add X mm every two weeks." Or adjust to some other criteria, based on comfort, length, or some combination thereof. Think about when you'll change these adjustments, as you progress on your penis enlargement exercise journey. Will you need to build up and adapt? Depending upon which design you choose, there are going to be aspects you will need to deal with. This is where your forum members can help.
5. Money Back Guarantee
Money back guarantees for penis extenders are out
there. Does the seller/manufacturer have a warranty period if a part breaks? This is where the price variance for extenders come into play. Sometimes the cheapest penis extender isn't always the least expensive, in the long run, as you work toward your penis enlargement goals.
The PEXtender by PEGym has a 14-day Money Back Guarantee. Use the PEXtender for 2 full weeks. If you're unhappy for any reason, simply e-mail us at [email protected], and we will be happy to provide you with return instructions. It's that easy!
6. Use the PE Forums
Seek out the advice and reviews from your fellow PEGym.com members. Find out which penis extenders they've used for their penis enlargement exercises, what they liked and what they didn't like. Hopefully this will save you some heartbreak, headaches, and regrets of not having done your homework.
THE DANGERS OF PENIS EXTENDERS
Like every exercise, if you overdo it, you can injure yourself. With this in mind, following are tips to steer clear of penis extender dangers.
Watch the Clock – Stick with your planned extender training time. It may be tempting to wear your extender longer, in hopes of achieving your results more quickly, but you're more likely to injure yourself than receive enlargement benefits.
Don't Overstretch – Again, less is definitely more with extenders. Overstretching your penis will only result in hurting yourself and you won't achieve the gains you're hoping for.
Consistency is Key – Penis extenders aren't a miracle, overnight penis enlargement cure. Believing they are is what leads to overuse and injury. Instead, consistent application, with a comfortable stretch, is what will give you the increased penis length you're looking for.
THE VERDICT
Penis extenders are one of the few penis enlargement methods that have had several significant medical studies. The work based on the stretching principle, creating micro-tears in the tissues, which facilitates cellular growth and enlargement. All extenders are designed around the same principles. However, the differences in design dramatically impact their comfort. However, with time and consistent application, all will give you the enlargement results you're looking for.
NOTE: This page contains affiliate links. Your purchase of a product or service through any of our links helps keep PEGym forums and content free. THANK YOU!