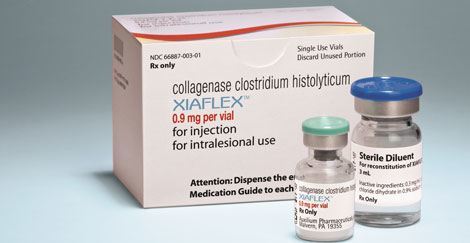 In December 2013, the FDA approved the first drug treatment for Peyronie's Disease — Xiaflex (collagenase clostridium histolyticum).
This is the first non-surgical treatment option the FDA has officially approved.
Peyronie's Disease
Peyronie's Disease is a curvature of the penis. Scar tissue under the penis's skin causes the penis to bend abnormally during an erection. Although many men have a natural slight curve to their penis, Peyronie's Disease is diagnosed when this curvature is at least 30 degrees during erection. This curvature can lead to problems during intercourse and even erectile dysfunction.
Xiaflex
Xiaflex is made from the protein of a living organism called – collagenease clostridial histolyticum. Xiaflex was first approved as a treatment for Dupuytren's contracture — a progressive disease that affects a person's ability to properly straighten and use the fingers of their hand, due to a build up of collagen. It is surmised Xiaflex also breaks down the build up of collagen scar tissue, that forms the curvature of the penis, for those suffering from Peyronie's disease.
Treatment with Xiaflex
Treatment for Peyronie's disease with Xiaflex is as follows:
A maximum of four treatment cycles.
Each treatment cycle consists of two injections of Xiaflex into the collagen-containing structure of the penis.
A penile modeling procedure (the massaging of the penis to help break up the collagen) is conducted 1 to 3 days after the second injection.
Xiaflex Studies
Two randomized, double-blind, placebo-controlled studies have demonstrated Xiaflex's effectiveness for treating Peyronie's disease.
832 men, with Peyronie's disease and a curvature of at least 30 degrees, participated in the studies.
Participants were given up to 4 treatment cycles of Xiaflex or the placebo and followed for 52 weeks.
Xiaflex was found to significantly reduce the penile curvature as well as the effects of Peyronie's disease, when compared with the placebo.
Risks Associated with Xiaflex
Xiaflex for Peyronie's disease is only available through a restricted program under a Risk Evaluation and Mitigation Strategy, through your doctor, due to the potentially serious adverse reactions. This can include penile fracture, where one of the penile bodies ruptures, and other serious penis injury. Other adverse side effects include: penile swelling, penile pain, and penile hematoma.
For this reason, Xiaflex should only be administered by a medical professional who has experience treating male urological diseases and who are certified within the program, by completing training in how to administer Xiaflex for Peyronie's disease.