The Flexing Girth Exercise
The Flexing Girth Exercise is an advanced girth compound movement which combines manual enlargement with Kegels.
NOTE– You must have a full erection and lubrication for this exercise.
Step 1
Either stroke or pump your penis to a full erection..
Step 2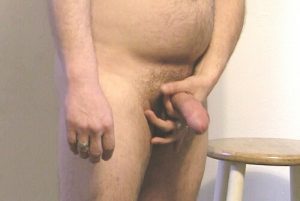 Once you have reached a full erection, grip your penis 1 inch from the base, estimate as best you can.
Step 3
Hold your penis with your thumb and the first two fingers of your hand.
Step 4
Flex your PC muscle (kegel), and hold it for a two count.
Step 5
Using your grip hand, apply pressure to the penis. (You will notice that the portion of the penis beyond your grip gets larger until you relax your grip.)
Step 6
Relax your grip as you relax your PC muscle.
Step 7
Repeat step 3 three to five times, depending on what you are comfortable with. Then slide your hand one inch down the penis and repeat step 3, with the same number of repetitions.
Step 8
Do this until you reach the glans. Once you have reached the head you should either go backwards by one inch increments until you reach your starting point, or start again from the beginning. Once your PC muscle cannot flex hard anymore you can stop the exercise.
At any point if your PC muscle is too weak to continue, stop for the day and note how many repetitions you did. Keeping track of this is good for your PC strength progress as well.
Tip For Future Growth
As your PC gets stronger you will be able to continue the exercise for longer periods, but do not exceed the normal three to five minutes for total exercise time unless you are an advanced user and continuing your program after months of work.
The Flexing Girth video